Boudoir Photographer Victoria B.C. : "50 Shades Darker" Inspiration
31st January 2017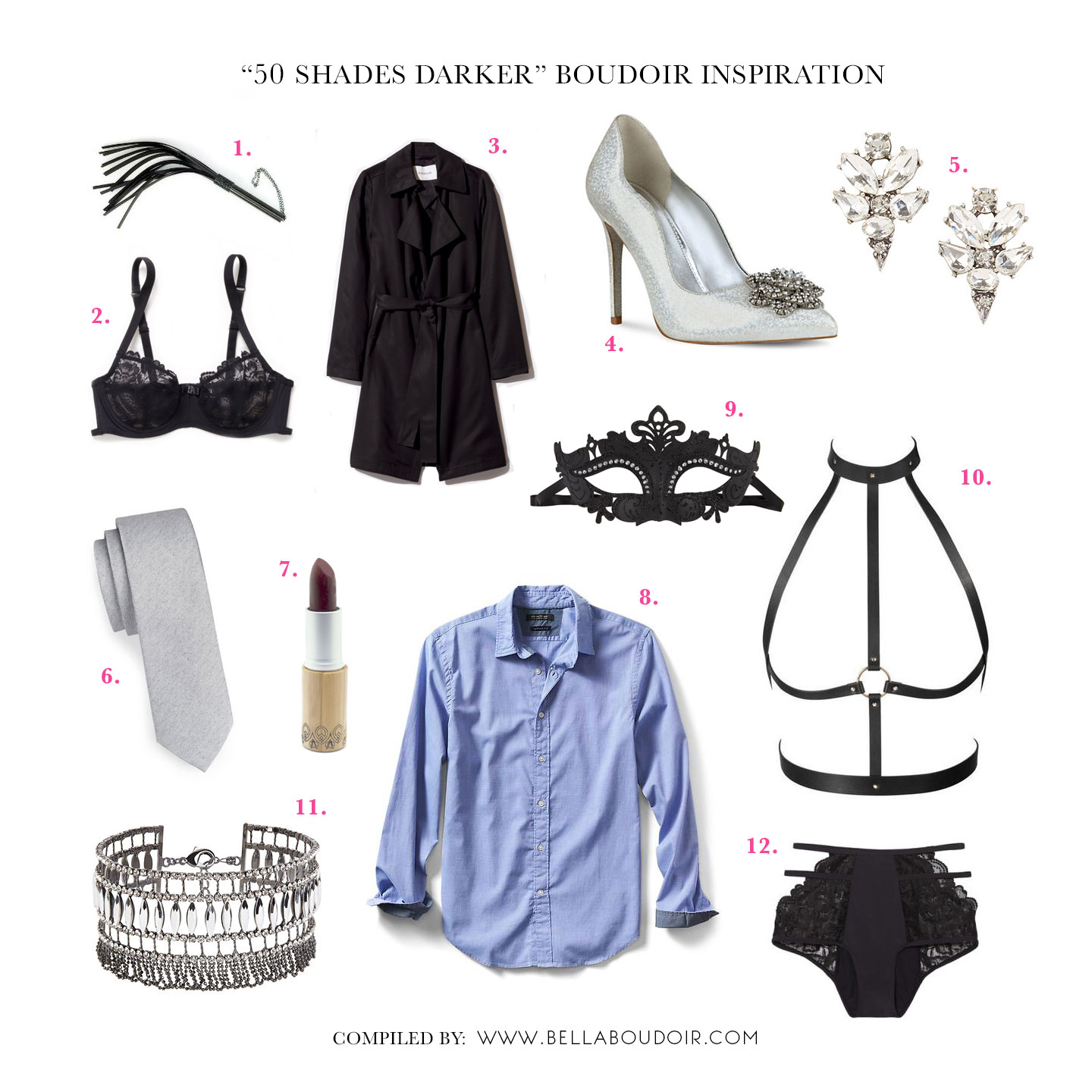 It's almost here!  "50 Shades Darker", the movie sequel to "50 Shades of Gray" (aka the book obsession of 2011).
We had a ton of influence coming into the studio based on this novel/movie.  Clients where channelling their "Anastasia" and wanted to add a little spice to their images. Even what we would consider the most shyest or reserved of clients wanted subtle nods to this story, as a surprise to many of their gift receivers… and it didn't take much.  So we thought we would show you a few key pieces (all available in Canada btw) inspired from the upcoming movie, that may add a hint of "50 Shades" to your shoot.
In the trailer, Anastasia is seen wearing a blue shirt and black panties in a more relaxed at home look. We selected these panties from  BLUSH (our favourite Canadian brand) because high waisted looks amazing on everyone.
Anastasia's style is very sophisticated and clean lined, with a bit of sexiness.  We love that she is wearing a deep matte red lipstick shade, much like the "Tantric" shade from Elate Cosmetics.  It's the perfect shade to wear with anything black. This deeper shade looks amazing with any skin or hair colour we think.
Last but not least, a girl has to accessorize!  Adding sexy pieces to any outfit, like a pair of sparkly earrings or choker will instantly up your game. Don't forget a mask, they are not just for halloween.  Masks or ribbons to cover the eyes make a super powerful and mysteries look to the shoot.  One of our favourite looks any time of year!
So grab a couple of girlfriends (or take your loved one, if they dare) and check out "50 Shades Darker", it's out February 10th in Canada.
1. FLOGGER  I   2. BRA  I  3. TRENCH COAT  I  4. HEELS  I   5. EARRINGS  I  6. TIE  I  7. LIPSTICK  I  8. SHIRT  I  9. MASK