The No-Lingerie Boudoir Shoot |Boudoir Photography for Beginners
30th September 2019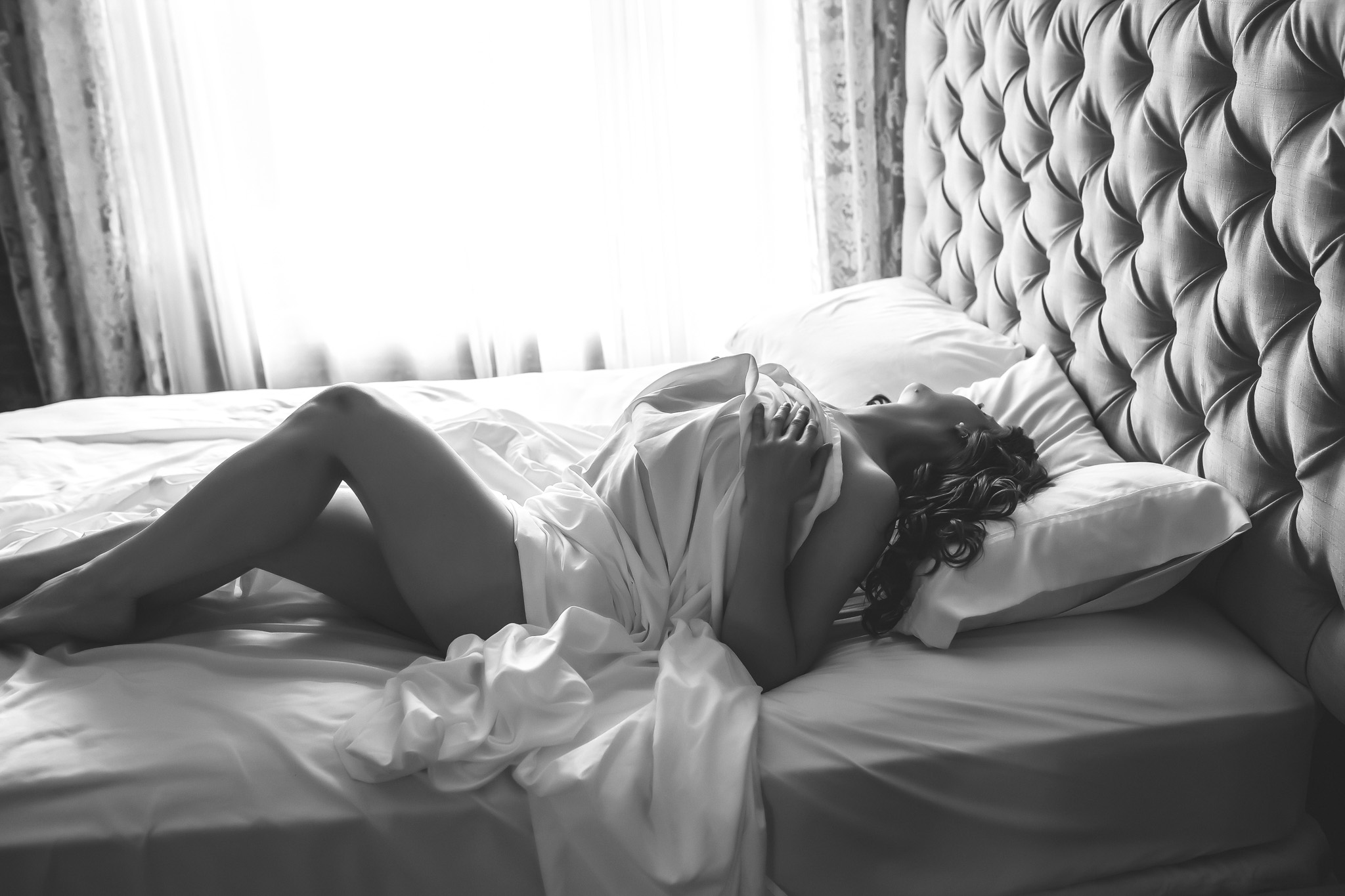 Want to do a Boudoir shoot but also don't want to break the bank buying outfits?  Here are 8 creative no-lingerie tips to rock your Boudoir shoot on a budget.  
The thing is, you really only need about 3-4 different "looks" (ie. outfits). Any more than 5 outfits, and clients start to feel tired and run out of steam for their session. That starts to show in the eyes, which shows through in the pictures. Posing is a lot of work, and that's why we like to keep our sessions to about 1.5 – 2 hours so that it's still fun and doesn't turn into a chore. A no-lingerie boudoir shoot is the perfect way to keep things fresh and creative!
We work to make the poses and situations that we photograph believable at Bella Boudoir because we think that's sexy. The looks we're highlighting in this post are great because they have a real down-to-earth and playful vibe that says chillin' at home but feeling frisky, ie. they're believable.
When situations and outfits look believable…
It can give your photos a more voyeuristic feeling, so it looks like the viewer has caught a glimpse into a private moment, which can feel thrilling. If you're doing the session as a gift to a partner who really loves how you look when you just woke up, most of these looks will serve you well.
For your no-lingerie boudoir shoot always remember…
Sexiness is a state of mind! What is sexy to one person may not be sexy to another. There are all sorts of varieties of sexy, just like ice cream…. One isn't better than another. Lingerie may be the most common garment shown in Boudoir images, but it is by no means the only option.
**Every single outfit on this list for your no-lingerie boudoir shoot can be purchased new or used for under $20. But chances are you probably already have most of these in your closet.
1.
The Cozy Sweater or Shawl. You probably own one that you love and that's soft and makes you feel super sexy when you wear it. Pair it with some undies (or nothing at all) and you're good to go.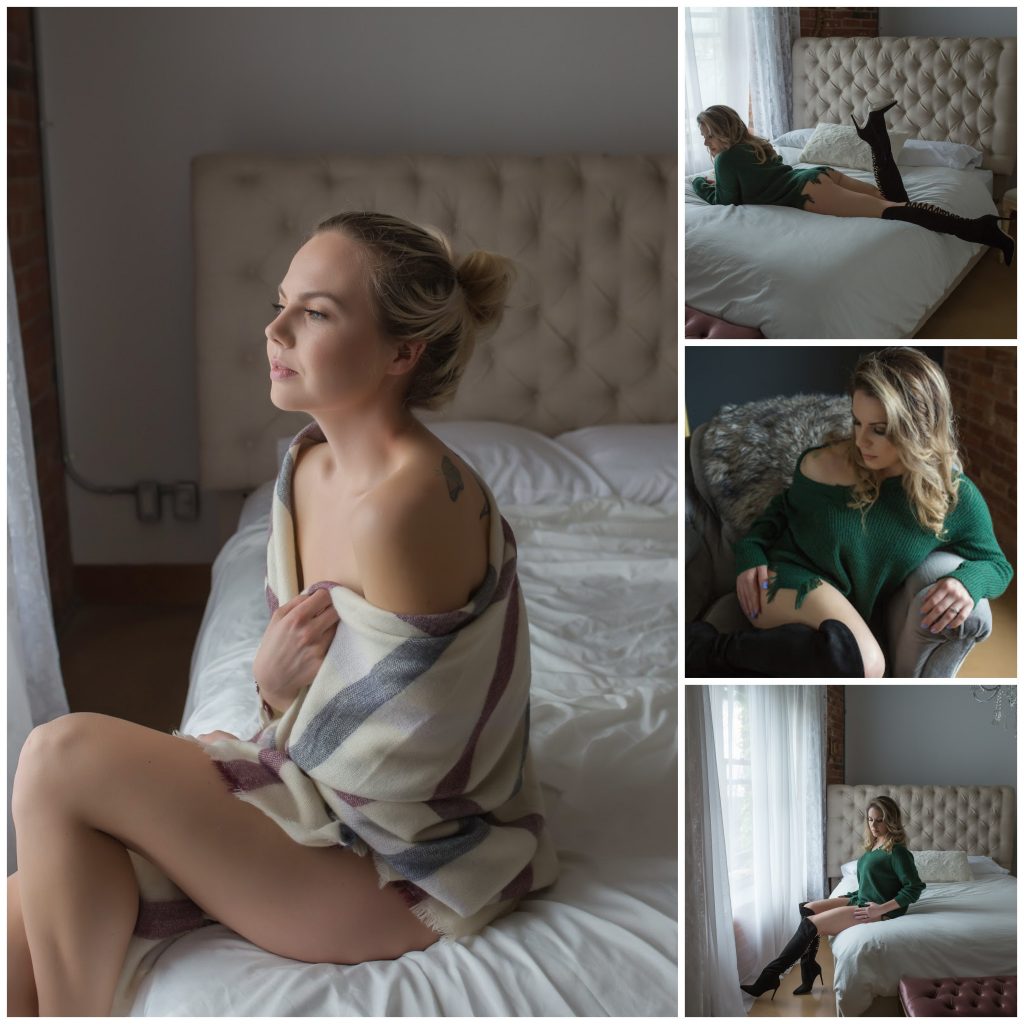 2.
A cute tank or t-shirt with undies or shorts. I have had clients come in for their session with a white cotton tank top and cotton underwear as one of their looks, and it really is a classic, beautiful and super sexy outfit option. Most people have a tank top or t-shirt and a pair of cute undies that are in good condition that they can use, and if not you can find them for super cheap.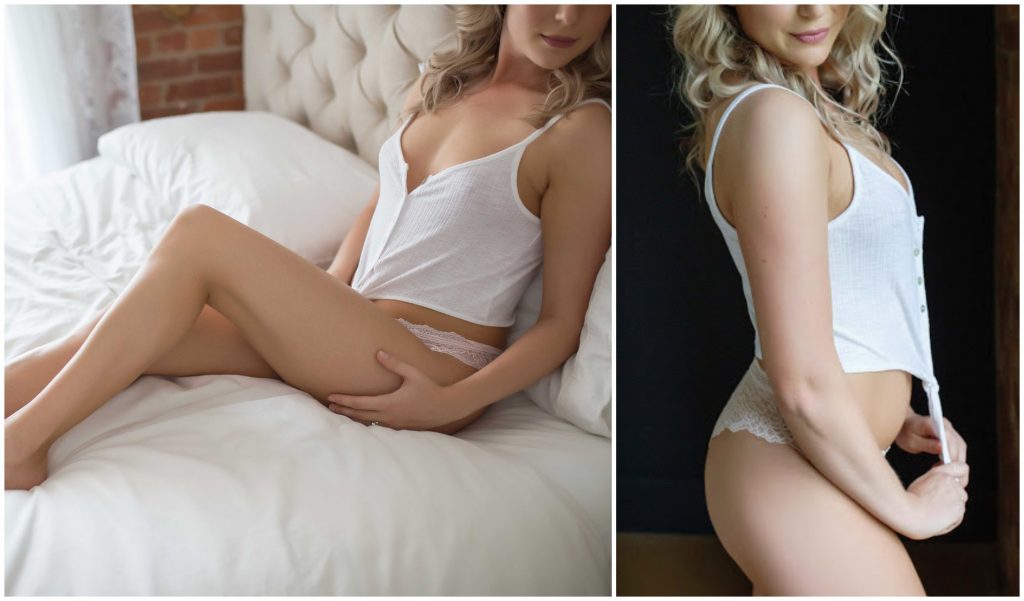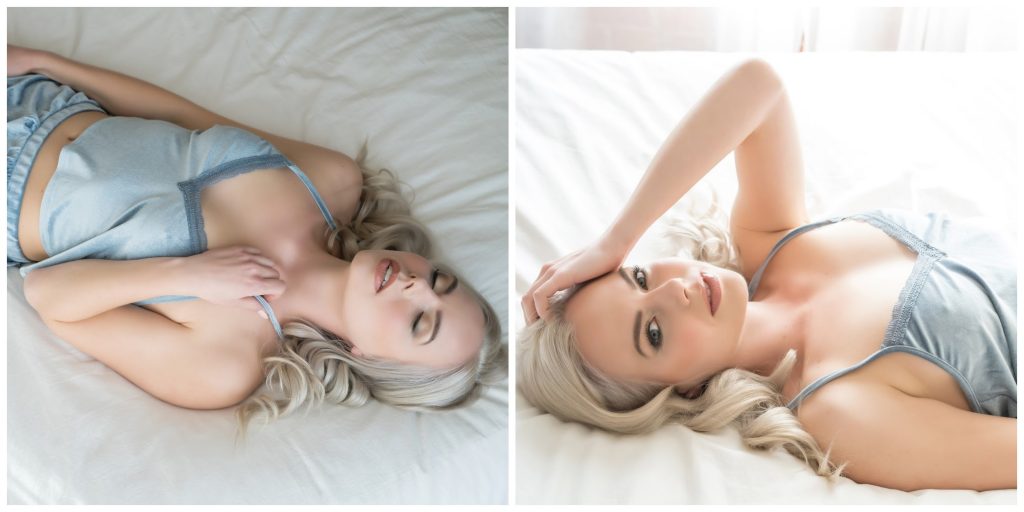 3.
A white collared button-up shirt. Almost everyone looks good in a white collared button-up shirt with just a bra and underwear set underneath. They are surprisingly flattering. And you can find them at thrift stores for almost nothing. Or borrow one from a friend or significant other.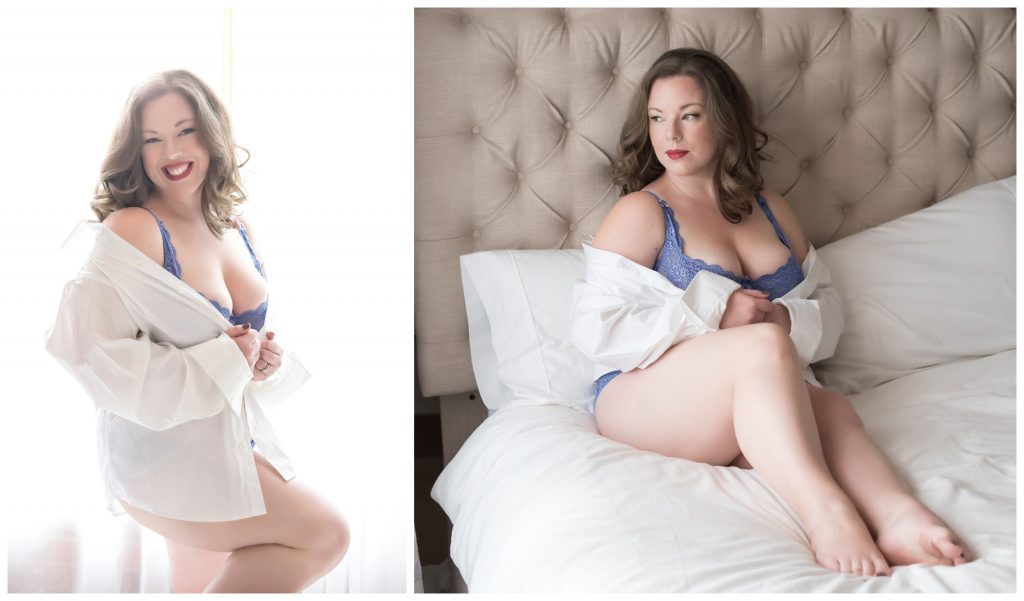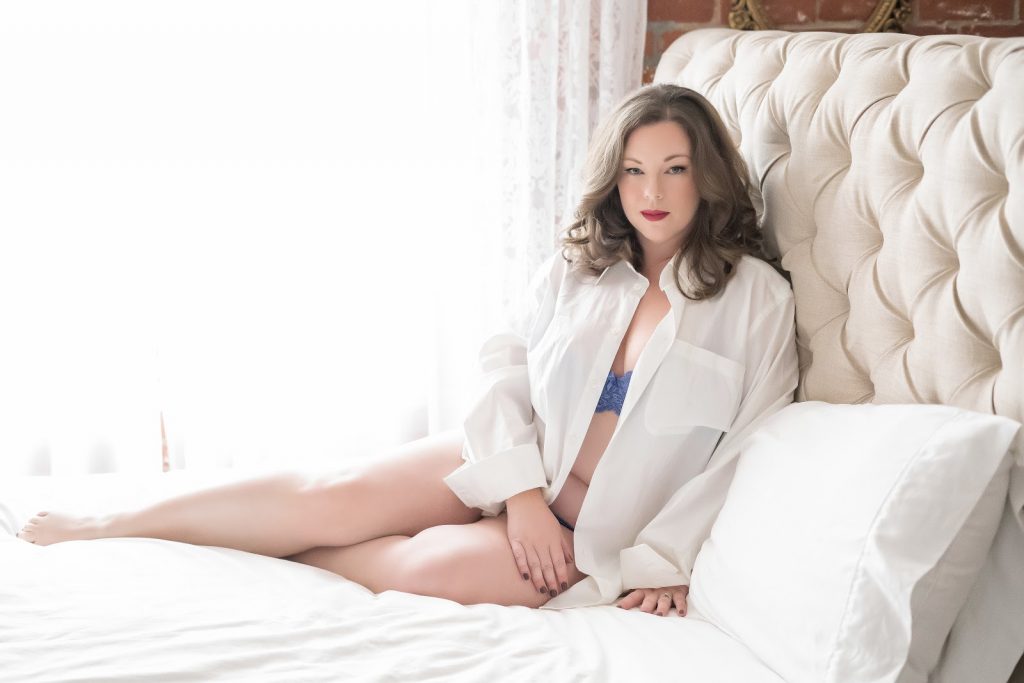 4.
A pretty robe. Many of my clients bring in robes. They photograph well, and many women seem to already have a pretty one from a previous occasion (wedding garment, bridesmaid gift, etc.).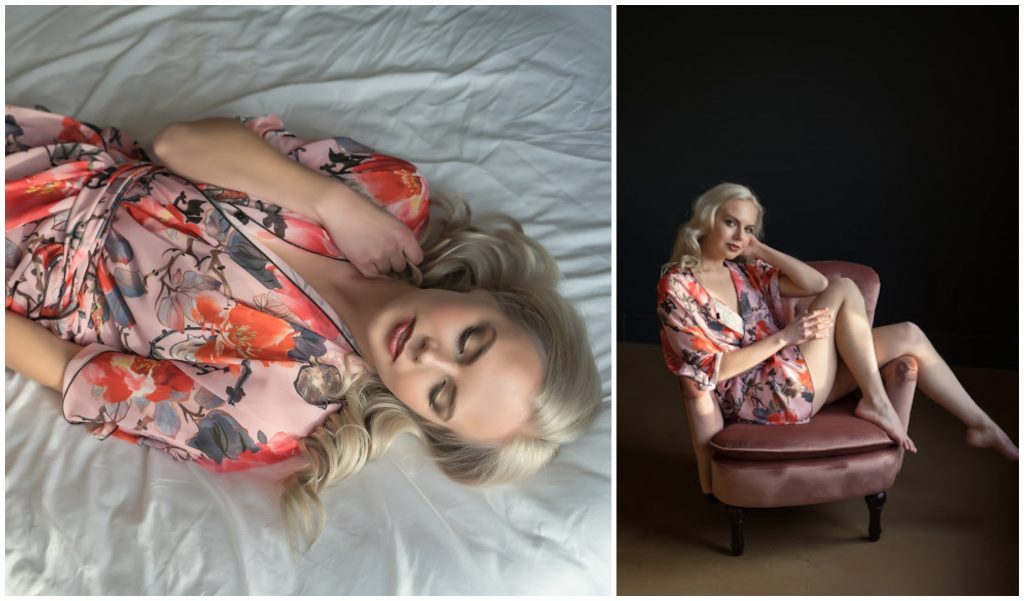 5.
A non-lingerie style bodysuit. Is it just me, or does it feel like as soon as something is labelled "lingerie" the price triples? This is a cute cotton bodysuit that you could get from Forever 21, H&M or a thrift store. I just saw a grey one identical to this on the Forever 21 website for under $4!!!??!!!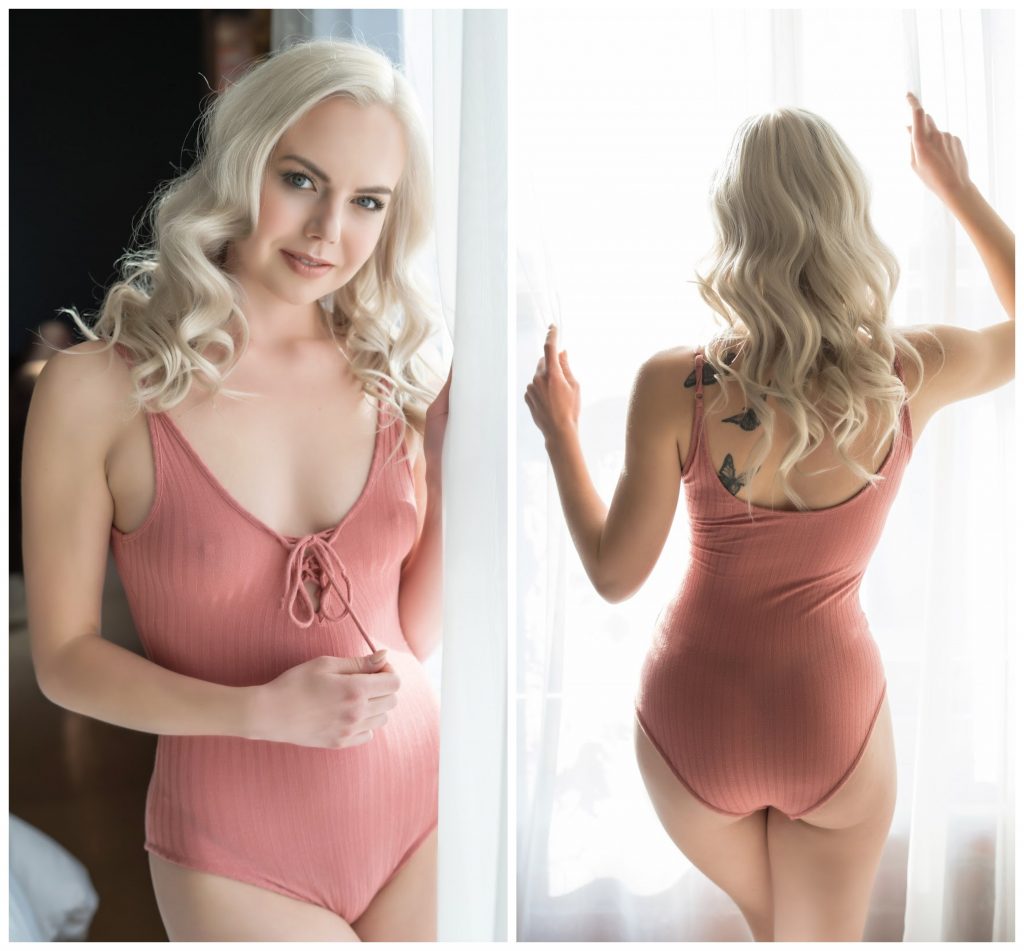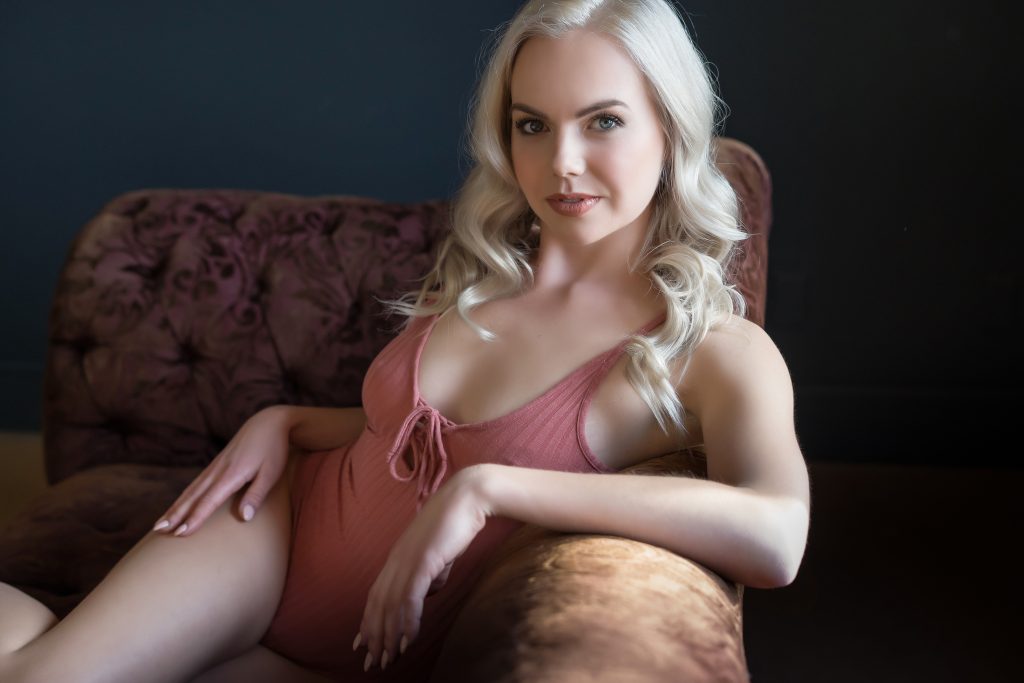 More options for your no-lingerie boudoir shoot!
Lingerie you already own. Chances are you probably have at least 1 lingerie set (bra and undies, bodysuit, etc.). There are only 2 rules to making an older garment work for you: 1. Make sure it fits you well, especially in the bust. There is gaping between the body and the bra when bras are too loose, and we can fix a lot of things in Photoshop, but we cannot fix gaping. Ensuring a proper fit is super important to ensuring flattering images. 2. Make sure it's in good condition. No rips, tears, holes, or stains. Again, it's tough to fix some of that stuff in Photoshop, depending on where it lands on the garment, so better to just avoid it.
A white sheet. Our "between the sheets" look is super popular and most of our clients choose to be photographed nude, partially nude, or with the illusion of nudity using a plain white sheet. We provide the sheet to the client during the session and give directions on how to "wear" it, and work to pose it so that it looks good. It's usually our last look of the session and it always looks amazing!
Nudes. Not everyone is up for being nude during their session, but some clients are. At Bella Boudoir, we photograph our clients nude or partially nude in a tasteful, artful way, often (but not always) employing the white sheet. *We have a few ground rules in the studio – we don't photograph sex, simulated sex, or genitalia, but we do use creative angles to hint at sensual possibilities.
We really hope this has given you some new ideas to think about how to approach your outfits for your next No-Lingerie Boudoir shoot!
Xoxo,
~ The Bella Team